At Truvelop, we're here to help companies improve Manager and Team Member relationships by increasing touchpoints,  promoting real time feedback, and focusing on development and upskilling opportunities. One of the many benefits of Truvelop is the messaging our Customer Success team sends out on the 1st and 15th of every month. Meryl Goeke and Juliana Withers share best practices with end-users on various topics and this month, we focused on Team Member development.  
ORGANIZATIONS THAT HAVE MADE A STRATEGIC INVESTMENT IN EMPLOYEE DEVELOPMENT REPORT 11% GREATER PROFITABILITY AND ARE TWICE AS LIKELY TO RETAIN THEIR EMPLOYEES. (GALLUP) 
First, we recommend Managers find out what motivates and truly inspires Team Members before identifying developmental opportunities. Asking a Team Member questions regarding what motivates, inspires, and demotivates them is a good starting point. Where do they see themselves in the next year, 3 years, or 5 years? Do they consider themselves to be a leader or more of an individual contributor? When managers open dialogue with Team Members about their desires and motivations, this helps create a successful development plan, achieve goals, and inspire individual growth.
What are the best practices we recommend for Team Member development? 
Let's dive into how Managers can use the app for Team Member development purposes. 
Settings goals

 - 

The development journey starts with a 

professional

 

goal

.  When collaborating with a Team Member to create the goal, it's important to keep in mind the acronym SMART

:

Specific, measurable, achievable, relevant, and timely. Whether the goal is about mastering a technical skill, hitting a certain quota, or being promoted, we want to be able to know exactly what a Team Member is aspiring to achieve. When the process is completed together, there is investment from both parties, making it more likely that the Team Member will complete their goal. Truvelop users have the ability to document the goal in app as a 

Spark

,

 ensuring that the goal stays a priority. 

 
Check in on progress regularly

 - 

When Managers check in, asking for Team Member input is necessary. It's important for Managers to show Team Members they care about their opinions and suggestions. Typically, a Team Member is motivated when they feel their voice is heard. Managers in the Truvelop app can send a 

Goal(s) Spark

 to find out about the progress Team Members are making on their goals and project assignments. After the check-in, Managers and Team Members can respond to the original Spark with any updates. The follow-up keeps both the Manager and Team Member accountable, again, ensuring that the Team Member will meet their professional aspirations.

 
Praise and recognize accomplishments

 - 

Celebrating

 milestones

 

and accomplishments along the 

way

 

motivates Team Members

. Spark and the Recognition Wall are two ways to do just that in the app! Sharing praise to promote ongoing engagement is important, especially for long-term goals or projects. A key takeaway here is to ensure there are frequent conversations along the way to monitor progress and keep excitement building around the development plan. 

 
Identify horizontal or vertical mobility

 

–

 As organizations get resettled post-pandemic (it's in sight!), think about how to recognize exceptional Team Members' hard work. Is it by assigning them to a special project? Are there going to be any open positions that the Team Member could fill? Being proactive on this can help keep the team member in the running, while also strengthening the Manager-Team Member relationship and boosting motivation and engagement.  

 
Team members want to know that they have the ability to grow and develop within an organization. They want to know that their hard work is being noticed and adds value. A good development plan is one that is consistently revisited and updated as career goals are met and aspirations change. Creating a plan based on goals and seeking out opportunities helps Team Members see that their company is committed to their future growth. Is your company looking for a way to do this?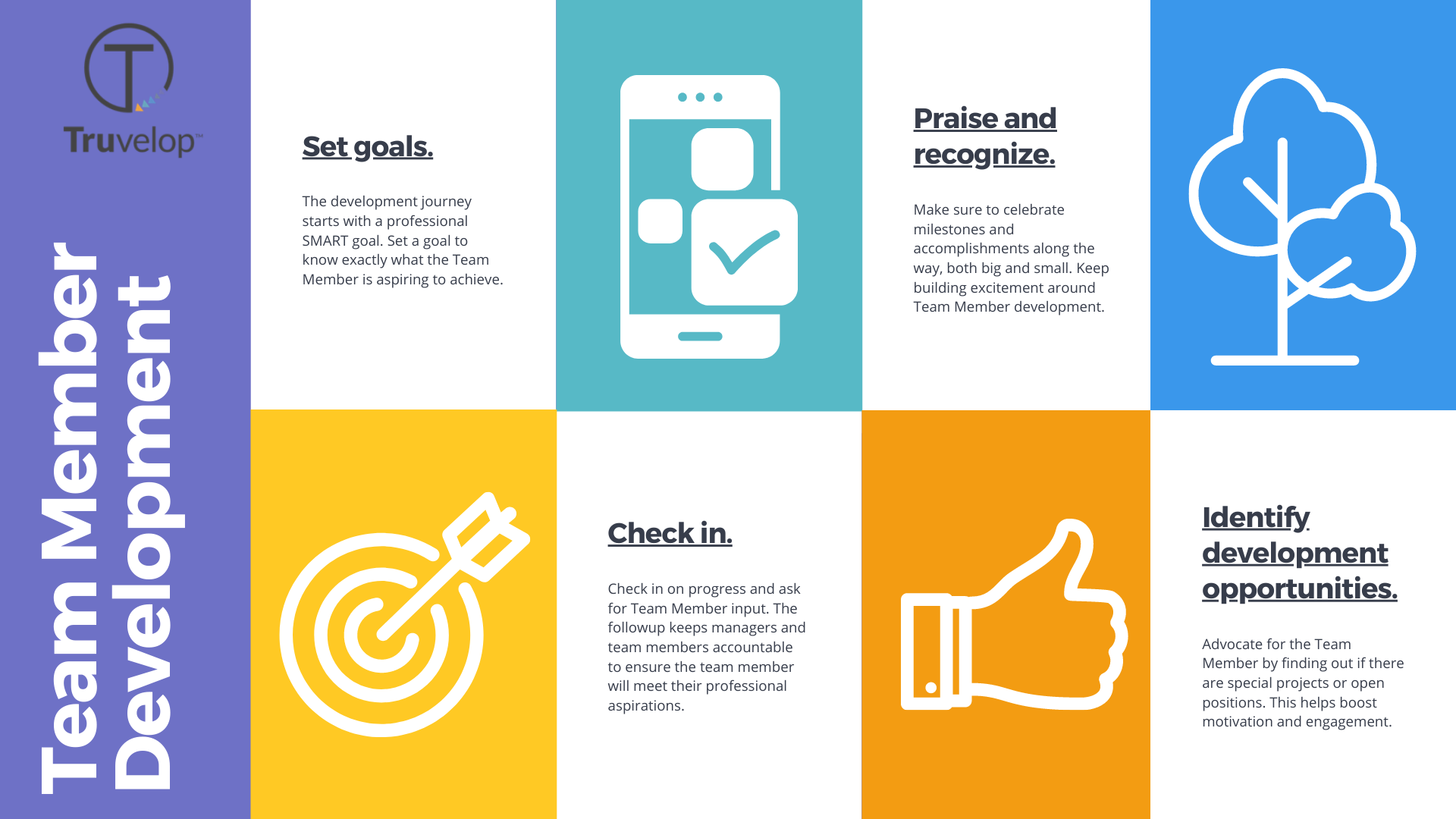 To learn more about how Truvelop can be used to coach and develop Team Members, check out these User Community Lunch & Learns: 
Contact us today to learn more about our modern approach to performance management and development and the many benefits for employees including supporting a transparent, development focused, coaching culture.